Rental of tank containers for gases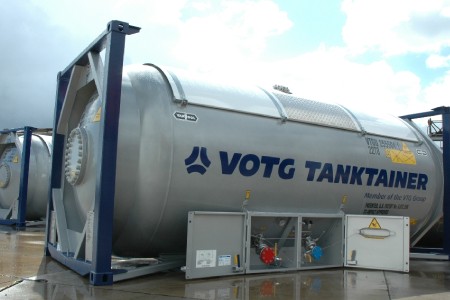 Wide variety of tank container for rent for:
Liquefied gases (T50) such as LPG, Ammonia, Propane.
Cryogenic liquefied gases (T75) such as LNG, Argon.
Compressed gases (MEGC – Multi Element Gas Container)
Features and Advantages of ISO Tank Containers for Gas
They share all the advantages of international cargo containers:
Intermodal (Truck/Railway/Barge/Ship. Door to door).
Stackable. Economize space.
Tank containers for gas have the highest international certifications for recipients that work with pressure.
Applications in the LNG market
Natural gas is liquefied by a cooling process, reducing its volume 600 times, which facilitates the following activities:
Bunkering.
Import/Export.
Shipping from Plant to Distributor.
Distribution to large customers.
Virtual Gas Pipeline.
Virtual Gas Pipeline
This an alternative to the physical gas pipeline. Gas, which is normally shipped by way of a conventional gas pipeline, is shipped in tank containers as liquefied gas, by boat, road, rail, or a combination thereof.
Virtual Gas Pipelines operate in very small markets for very large scale or geographically complicated supplies for the construction of a traditional gas pipeline.